Newton Software has released Newton RPO, a cutting edge technology platform that enables recruitment outsourcers to strategically manage and analyze their client's recruiting programs
.

San Francisco (PRWEB)
February 24, 2010 — Newton Software, an innovative recruiting software
company, launched Newton RPO today, the first complete applicant
tracking platform designed specifically for recruitment outsourcers
(RPOs). Newton's web-based technology is designed to complement the
consulting services RPOs provide, not only giving them the capability
to offer their clients a true end-to-end recruiting solution—but
enabling them to manage their clients' entire recruiting programs more
efficiently and effectively.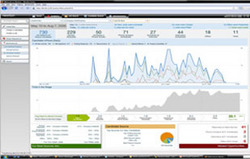 Newton RPO
To date, most recruitment outsourcers do not offer complete recruiting solutions. RPOs primarily provide consulting services, and most do not provide technology to their customers: they tend to rely on outdated and homegrown systems, legacy ATS solutions that weren't designed to provide outsourced recruiting services and various cobbled together solutions using email and spreadsheets. The release of Newton RPO gives recruitment outsourcers the opportunity to leverage cutting-edge technology that was built specifically to optimize the business processes associated with outsourced recruiting.
Over the last few years, the recruitment outsourcing
industry has experienced dramatic growth, which stems from an
ever-expanding market demand for scalable, on-demand recruiting
programs. Today, new clients not only expect RPOs to fill seats but to
help them build better process along the way. Newton RPO is a
technology platform specifically designed to address the latest
challenges faced by recruiting services providers, enabling them to
easily attract new customers, manage existing accounts better, as well
as increase their overall customer retention rates.
Originally developed to run a recruitment services business, Newton RPO has been under development since 2004. The developers of Newton had the unique opportunity to use the product in a production environment for 4 years, offering it to clients, testing the product and optimizing its features. To date, Newton has been deployed to hundreds of companies, thousands of recruiters and hiring managers and has processed hundreds of thousands of applicants (from small start-ups to multi-billion dollar corporations).
"I'm really excited that we can now make Newton available to recruitment outsourcers with Newton RPO", said Steve Hazelton, Newton Software's Head of Products.
Hazelton continued by describing how Newton RPO can help recruitment outsourcers: "Having run an RPO, I know that they're hard businesses to manage. You have to monitor the activity of dozens of recruiters,
thousands of jobs, hundreds of hiring managers and hundreds of thousands of candidates. We've lived these challenges and we've built RPO Software that addresses the major issues that we faced as outsourcers years ago. This is software that I'd want to use if I were still managing recruiting programs."
Availability:
Newton RPO is now available. For more information contact a Newton RPO specialist at newtonsoftware.com.
About Newton Software:
Newton Software is a leading provider of innovative applicant tracking and recruiting software solutions. Newton software delivers an easy to use, fast-to-deploy, affordable solution for creating, managing and improving corporate recruiting programs with no hardware to buy or software to license. Featuring the most modern, intuitive application on the market, Newton is not only pushing the boundaries on how recruiting software is designed, it's also changing the way business software is delivered and purchased.
Contact:
Newton, Inc.
415-593-1192
http://www.newtonsoftware.com